The above photo is of Saudi Foreign Minister Prince Faisal bin Farhan bin Abdullah during his meeting with Pres. Bashar al-Asad in Damascus.
Suddenly, within the past few weeks, there has been a flurry of diplomatic activity that provides real hope that the civil war that's devastated Syria for 12 years may be headed toward a negotiated peace and a chance for rebuilding. These moves have involved a number of key West Asian governments though there's a potent global underpinning to them, too.
The past week has seen reciprocal visits by Syria's foreign Minister to Saudi Arabia, and by the Saudi foreign minister to Damascus, where he met Pres. Bashar al-Asad. Last month, too, Pres. Asad made a state visit to the United Arab Emirates where he was greeted with a 21-gun salute and held talks with UAE president Sheikh Muhammad bin Zayed. Given that Saudi Arabia and the UAE were for many years—along with Qatar, Türkiye, and the United States—the main financiers and strident advocates of the regime-change push in Syria, these visits signal that the war may finally be winding down.
Lovers of peace and justice from around the world should welcome this trend, and should also unreservedly support calls for all three of the foreign governments that still maintain hostile military forces within Syria to withdraw them immediately. These three are:
Israel, which has occupied Golan since 1967;
Türkiye, which has occupied parts of northwest Syria since 2011-12; and
the United States, which has occupied parts of northeast Syria since 2014.
Syria's 22 million people have suffered greatly from the brutal regime-change project that's been sustained against their government since late Spring of 2011 (and from the government's sometimes heavy-handed responses to that foreign-backed insurgency.) Late Spring 2011 was the point at which a handful of anti-government street protests inspired by North Africa's "Arab Spring" got infiltrated and taken over by armed, Islamist networks that have been backed throughout by the governments of Türkiye and those three wealthy—and very repressive—Arab petro-states from the Gulf: Saudi Arabia, Qatar, and the UAE.
In August 2011, Pres. Obama openly joined the call for regime change in Syria; and soon thereafter he started funneling a tsunami of arms to the opposition forces in Syria.
The conflicts that ensued have killed more than 300,000 Syrians and displaced around five million. And the security vacuum that opened up in northeastern Syria allowed the eruption there in 2013-14 of the cruelly genocidal organization, the Islamic State (IS).
Extremist adherents from around the world flocked to that IS stronghold through the portal that Türkiye (a NATO member) helpfully offered them. In the end, IS was contained and beaten back in Syria only by an unlikely coalition that involved the Syrian government and its Russian and other allies working in parallel with a force hastily sent there by the U.S. military, which allied itself locally with a Kurdish-Syrian militia called the SDF.
Once IS had been beaten back, the Syrian government asked the U.S. military to leave. The U.S. has still not done so. It retains military posts near key oil wells in northeast Syria where it claims that the SDF needs its "protection." (For many years now, the main forces attacking SDF positions have been not the Syrian government but the armed forces of that NATO member, Türkiye.)
Just yesterday, however, the Autonomous Administration of North and East Syria, a coalition that includes the SDF, communicated to the Syrian government its, "readiness to meet with the Syrian government and dialogue with it and with all Syrian parties… [to] find a solution to the Syrian crisis." So maybe the SDF figures it doesn't need the U.S. military there to protect it any more?
(Also, today, the Washington Post published and analyzed a document it said had come from the U.S. military's recent "Discord" leaks, which stated that last fall Ukraine's military intelligence had been coordinating with the SDF on a plan to have the SDF attack Russian sites inside Syria on Ukraine's behalf. The document stated that the plan had been nixed by Pres. Volodymyr Zelenskyy.)
---
The string of intriguing recent diplomatic developments regarding Syria has many other clear global dimensions, too. The latest moves toward improved relations between Saudi Arabia and Syria are closely linked to the ongoing rapprochement between Saudi Arabia and Iran, which has been greatly aided by the adroit and thus far successful diplomacy that China has been pursuing in West Asia. That strategically significant region has, as we know, until now long been dominated by US/Western influence…
China's government has gained notable diplomatic clout throughout West Asia as a result of the big Iranian-Saudi rapprochement it helped to cement. As it has, too, from the other diplomatic achievements that have flowed from that rapprochement—in Yemen as well as in Syria. (This week, China's foreign minister even offered Beijing's services to help broker peace between Israel and the Palestinians… an arena in which Washington's many diplomatic efforts have produced no tangible results…)
Over the past decade, the diplomatic influence that Washington has been able to wield in West Asia has become notably diminished—regarding Palestine and a number of other key regional issues. Pres. Trump had made a big deal of the "Abraham Accords" he helped broker between Israel, the UAE, and Morocco. But those accords did nothing to secure the Palestinians' rights, and Saudi Arabia refused to join them. Then last month, Saudi Arabia brusquely ignored a plea from CIA Director Bill Burns that it help keep oil prices low by continuing to export prolific amounts. Instead, they joined Russia in a joint plan to reduce exports.
---
To a large degree, the linchpin to all these transformations in West Asia—in Syria, and more broadly in the region—has been Saudi Arabia's shift from being a constant and always generous ally for Washington to being a state more prepared to identify and pursue its own interests as it sees them.
Regarding Syria, this recent report in The Cradle noted that Qatar's former prime minister admitted that, back in 2011, the late Saudi King Abdullah had asked Qatar to lead operational centers in Jordan and Türkiye in which those two host states, Qatar, Saudi Arabia, and the U.S. could all coordinate all their anti-Asad efforts. In 2012, the report continued, after Saudi Prince Bandar bin Sultan became head of Saudi intelligence, he personally took charge of the operation to overthrow President Asad and drew up detailed and super-expensive military plans to occupy Damascus and the Syrian presidential palace.
By 2015, Bandar's plans had achieved nothing (except the continued immiseration and dislocation of the Syrian people.) He himself was then roughly shoved aside by Saudi Arabia's brash new de-facto ruler, Prince Mohammad bin Sultan (MBS), who shifted the kingdom's foreign-meddling attentions from Syria southwards, to Yemen. In Yemen, MBS ran up against the same brick wall of failure that Bandar had encountered in Syria. At some point late last year MBS evidently decided the time had come for a radical change of strategy.
At the regional level, that involved ending the conflict Saudi Arabia had long pursued against Iran (along with Iran's allies in Yemen and in Syria.) At the global level it involved stepping free from the close ties it had had with Washington ever since the formal establishment of the unified Kingdom of Saudi Arabia in 1932.
Syria, the rest of West Asia, and the world are now seeing where this strategy will lead.
---
Why is it that so many people in the "West", even apparently smart and well-meaning people, continue to think that the opposition to Pres. Asad is made up overwhelmingly of Jeffersonian democrats and that he himself is an incarnation of evil on a par with Adolph Hitler or Josef Stalin?
Over the years, there have been several disjointed traces even in the corporate media here in the West that attest to the deeply U.S.-backed and often troublingly violent nature of the Syrian opposition. As long ago as April 17, 2011, the Washington Post reported (citing Wikileaks revelations) that the State Department had for some years been secretly financing an anti-Asad t.v. channel beamed into Syria by Syrian-exile activists based in London… Fast forward to April 2017, and note this report in which a team of New York Times reporters documented the Trump administration's shutdown of a clandestine CIA project to arm and train anti-Asad fighters that had cost over $1 billion over the preceding four years.
That latter report also noted that an earlier rebel-support project run by the Pentagon, not the CIA, had cost $500 million and had "envisioned training and equipping 15,000 Syrian rebels over three years." But, they noted, that program, "was canceled in 2015 after producing only a few dozen fighters."
The NYT report noted of the later CIA project that,
Once C.I.A.-trained fighters crossed into Syria, C.I.A. officers had difficulty controlling them. The fact that some of their C.I.A. weapons ended up with [al-Qaeda-linked] Nusra Front fighters — and that some of the rebels joined the group — confirmed the fears of many in the Obama administration when the program began. Although the Nusra Front was widely seen as an effective fighting force against Mr. Assad's troops, its Qaeda affiliation made it impossible for the Obama administration to provide direct support for the group.

American intelligence officials estimate that the Nusra Front now has as many as 20,000 fighters in Syria, making it Al Qaeda's largest affiliate.
The whole of that 2017 report is well worth (re-)reading. And it's notable, because it bucks a longstanding trend in which most of the NYT's journos have accepted at face value all the claims of anti-Asad spokespeople to the effect that the opposition forces are calmly democratic and that Asad himself is uniquely evil. These journos have just regurgitated claims that Asad "uses chemical weapons even against his own people"; that he "runs chains of genocidal extermination camps", and so on… And therefore, the argument of these journos and pundits runs, the imposition and maintenance of punishing sanctions against Syria is a necessary step that will help to force Asad out of office.
These claims and arguments have gained great visibility and traction among U.S. and other Western publics largely because, since 2011, the three oil-rich governments of Saudi Arabia, Qatar, and the UAE have all invested huge amounts of money in influence campaigns designed to propagate them. Thus, for example, the NYT routinely attributes the use of chemical weapons at various stages of the civil war in Syria to "pro-government forces", even though in several cases—and most especially in the case of CW use in Douma in 2018—there is considerable reason to question that attribution. Hence, too, the whole phenomenon of the "Caesar files", a series of shocking photos of Syrian corpses, some of them bearing signs of torture, that an opposition-linked former Syrian government employee code-named "Caesar" released to media in the West in 2014.
In 2020, the legacy of the "Caesar" photos was seized upon by members of Congress and the Trump administration in order to pass the "Caesar Civilian Protection Act", which imposed the harshest sanctions ever on Syria. But as Max Blumenthal painstakingly documented in this lengthy June 2020 article, there remained numerous questions about the whole case. Blumenthal's questioning addressed the actual identity of "Caesar" himself and the probability—also attested to in a Human Rights Watch report—that roughly half of the people whose bodies the man had photographed in government mortuaries had been government fighters killed by the opposition, rather than the reverse.
Blumenthal also traced the trail of the many well-financed institutions that had brought Caesar's case to public attention, noting that they included a body called the Center for International Justice and Accountability (CIJA), which he described as a US- and EU-funded regime-change initiative "that aims to destabilize the Syrian government by subverting the international legal system," along with "experts" associated with a number of generously Qatari-funded institutions.
Blumenthal and other researchers have tracked large numbers of hefty donations that have flowed into Washington "think-tanks" since 2011 from, especially, Qatar and the UAE. The researcher Ben Freeman showed (PDF) that in 2019-20 Qatar gave large sums to the Brookings Institution, while the UAE gave large sums there and to the Atlantic Council. Both of those institutions have hosted active anti-Asad "scholars" and programs.
Among Washington's smaller think tanks, the UAE secretly gave $20 million in 2016-17 to the Middle East Institute, an institution that has hosted and boosted the work of ardent anti-Asad activist Charles Lister for many years. Last month, Lister was identified as the organizer of a group letter in which a dozen former U.S. officials called on the Biden administration to push back on moves some Arab states were starting to make to re-engage with Syria.
Lister is just one of many Syria "experts" who frequently get quoted in the corporate media but whose funding by deeply partisan foreign governments very seldom (if ever) gets mentioned in that reporting. Others who come to mind include Fred Hof of the Atlantic Council, or Radwan Ziadeh of the "Arab Center Washington", a small institution that gets all of its funding from Qatar. (As does the Al-Jazeera network.)
It is thus not surprising—though it's very depressing—that so many Americans who get most of their "news" about Syria from those sources have, over the years, had their views on Syria deeply influenced by the propaganda peddled by these extravagantly funded "influence operations". It takes a lot more effort to seek out and find contrarian analyses such as those produced by Max Blumenthal, Aaron Maté, or the always solid scholar William Van Wagenen, whose February 2022 piece on "The Salafist Roots of the Free Syrian Army" is certainly well worth reading.
The very well-funded Qatari and UAE influence operations have had many damaging effects overt the past 12 years. They drove a deep spike of anti-Asadism into the heart of the Palestinian rights movement in the United States, causing sectarian splits and considerable damage there. And they had significant effects in many part of the "progressive" movement, which they somehow managed to convince that, in the case of Syria (unlike, say, Cuba), punishing sanctions were necessary and admirable if they could be marketed as serving allegedly "humanitarian" ends.
---
Of course, now that the UAE, Saudi Arabia, and even slow-to-the-shift Qatar have all been coming round to the view that they need to reconcile with Pres. Asad, we might expect those gushing sources of funding for the anti-Asad propaganda to start drying up. Or might we hope they could be redirected instead, into supporting real news on the urgent need for peace-building and reconstruction inside Syria, or investigations into how the global Organization for the Prohibition of Chemical Weapons got so badly subverted by the US-led campaign to choke off its investigations into CW use in Syria… and so on?
Maybe that is too much to hope? And anyway, it would take time for such changes to take effect. Meanwhile, though, some drying-up of the previous torrents of propaganda that were designed to perpetuate anti-Asad hate would itself be quite helpful.
---
Over more than 45 years now, I have done a lot of research and analysis on Syria and its often vulnerable position in the "Arab East." In 1991 and 2000, I published two books on different aspects of the little-understood dynamic between Syria and Israel. The first was about the military balance between the two countries, and the role it played in the waning years of the U.S.-Soviet Cold War. The second tracked the trends in the peace negotiations that the two governments pursued between 1991 and 1996—a story long forgotten (or never known) by most Americans, who have been drenched for many decades in the torrents of anti-Syrian propaganda spewed out by all the super-well-funded the pro-Israel influence mongers. Those peace negotiations of the mid-1990s were abruptly ended in 1996 by Israel, shortly before Benjamin Netanyahu won his first prime minister's post there. His successor Ehud Barak briefly tried to revive them but he also broke them off in 2000…
Over the years, I've conducted numerous interviews on war, peace, and governance issues in Syria (and Israel.) In Syria, I've interviewed a broad range of people: researchers, civil-society activists, government officials, business leaders, religious leaders… In 2010-11, I was briefly a member of a small group, convened by two U.S.-based conflict-resolution non-profits, that set out to explore the possibilities for effecting even a small (but significant) reduction in tensions between Damascus and the Obama administration. The group received some initial encouragement from within Obama's team. The U.S. members of our group made two short visits to Damascus for talks with our non-governmental counterparts there.
But the Obama administration would never give our Syrian counterparts visas to come for a reciprocal visit to Washington. Soon thereafter, when Obama came out strongly for forceful regime change in Syria rather than dialogue, I understood why. And that small attempt at Track II diplomacy completely fizzled.
In March and April of 2020, the non-profit I currently head, Just World Educational, presented a very rich series of webinars on the subject of Syria. We presented nine sessions that covered topics including the modern history of Syria, the history of its relations with Israel, the role of the large numbers of Palestinian refugees in the country, the terrible fate of the millions of Syrians displaced within and outside the country's borders by the fighting, the effects of the sanctions, and so on.
Those sessions involved fifteen presenters, a majority of them either Syrian or Palestinian. They represented a wide variety of different views of Syria's politics. But even when participants were expressing widely differing views in any session, we kept the tone of our conversations collegial and as constructive as possible. Given the sharp polarities and emotions that this topic has too often engendered within the U.S. discourse, I counted our ability to model such behavior as a valuable contribution in itself.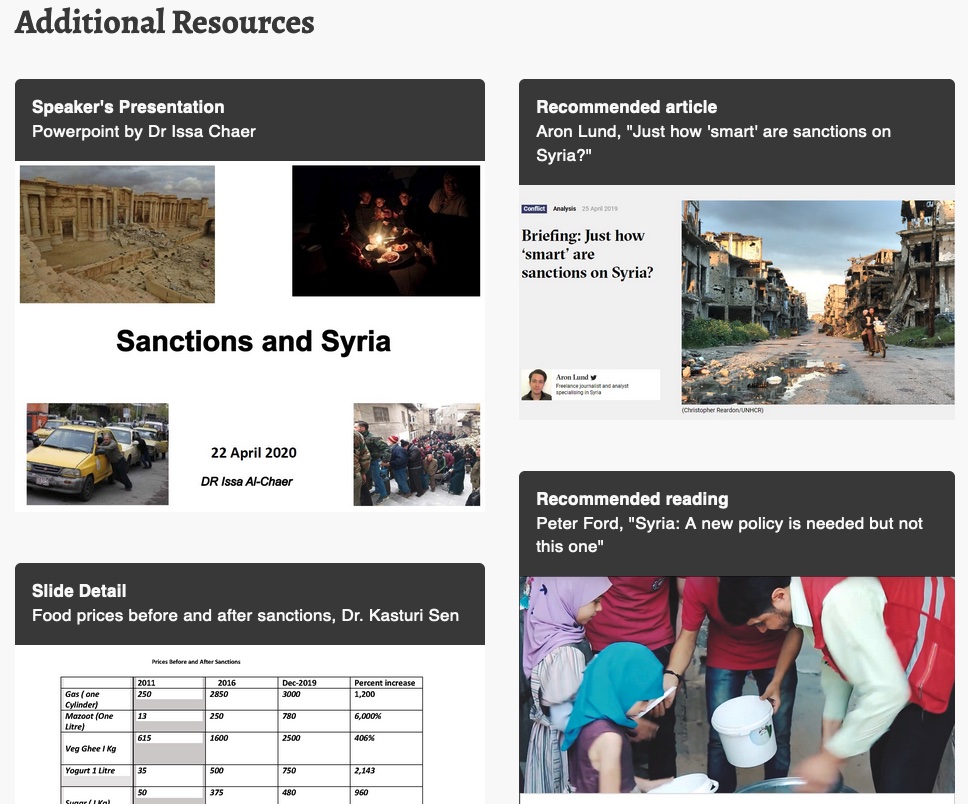 You can access the video recordings of those sessions, the bios of the presenters, and much supplementary material via this page on our website. (We're currently working to improve the organization of these online materials, to add more to them, and perhaps to present digests of some of them in short, printed factsheets…)
We were, very sadly, unable to present the tenth session we'd planned for the series, which was intended to cover the prospects for negotiating an end to the conflict. The expert sources we consulted, including several who'd taken part in earlier, failed rounds of peace talks in Geneva and elsewhere, told us it "wasn't a good time for this."
That was three years ago. Since then, Syria's people have continued to suffer from the harsh series of conflicts that have plagued their country—as well as from the plundering of the three hostile foreign military occupations, from the super-harsh effects of Washington's illegal economic sanctions, from Covid, from earthquakes, and from the deadly air attacks that Israel periodically launches against targets deep inside the Syrian homeland…
Let's hope that now, with the many signs of rapprochement between Pres. Asad's government and some of the harshest (and most deep-pocketed) of its former Arab opponents, the country's people can finally start to see an end to their travails.